Galbobain répond à vos questions :

+33 (0)1 47 65 89 62
Nous écrire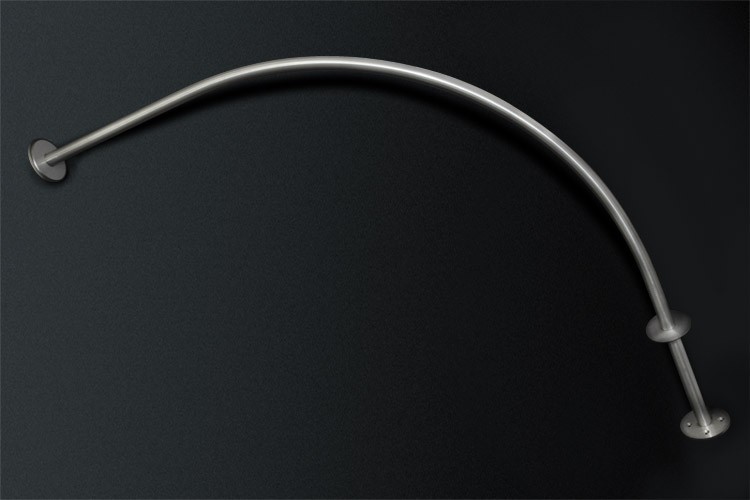  
Symmetrical corner shower rod 85
For quarter of circle shower base 80 cm and symmetrical italian-style shower booth
Garanties sécurité (à modifier dans le module "Réassurance")
This rod model is compatible with a corner symmetrical collector 80 cm.  
The radius of curvature of the rod is significantly larger than the shower collector so that the bottom of the curtain naturally applies itself to the collector wall and make the shower booth confortable.
This model is also adapted to a down-the-floor spacious shower booth (with no collector). 
See in configuration in a corner Italian-style shower
Technic informations
Tube, caps and plates in brushed stainless steel 304L - brushed grade 220
Diameter of the tube: 25 mm 
Diameter of the plates: 90 mm
Supplied together with Hilti's plugs and stainles steel screws
Sizes of the suitable curtain
H = 210 cm (82.68'') x L = 180 cm (70.87'') (See the curtains)
Other symmetrical shower rods
Symmetrical corner shower rod 95 (base 90) (see)
Symmetrical corner shower rod 120 (see)
Symmetrical corner shower rod 140 (see)
Product Details
Material

Angle to axes dimensions

85x85cm

Dimensions hors tout

89,5x89,5cm

Diameter of the tube

25 mm

Diameter of the plates

90 mm

Weight

1,76kg

Customs code

Warranty

10 years

Supplied with

Hilti's plugs and stainles steel screws (4 per plates)

Package dimensions

48,7 x 142,7 x 11 cm

Package weight

3,63 kg

Manufacturing

French