Use for a symmetrical corner bathtub.
The symmetrical corner bath, though very comfortable, occupies significant space in a bathroom ; the surface that is typically allocated to a bathroom does not allow for an independent shower booth in addition.
Equipped with the GalboBain shower curtain rod (for 135 to 160 cm baths), the surface occupied by the bath will efficiently be turned into a spacious and useful shower booth, without impacting the volumes and the aesthetics.
See in configuration in a symmetrical bathtub
Use for a corner shower booth.
By choosing a corner rounded-edge booth for the bathroom, you minimize space occupation while highlighting the design of the curves. Better than a glass booth, the shower curtain provides ease and comfort of use within the protected space.
These models allow to equip shower corner collectors or to realize down-the-floor spacious shower booth (with no collector), in a bathroom corner, with flushing water flowing on the floor: simply elegant!
Big models allow to design very spacious 'Italian' shower booths, thus made easily accessible to disabled and/or elderly persons.
GALBOBAIN STANDARD MODELS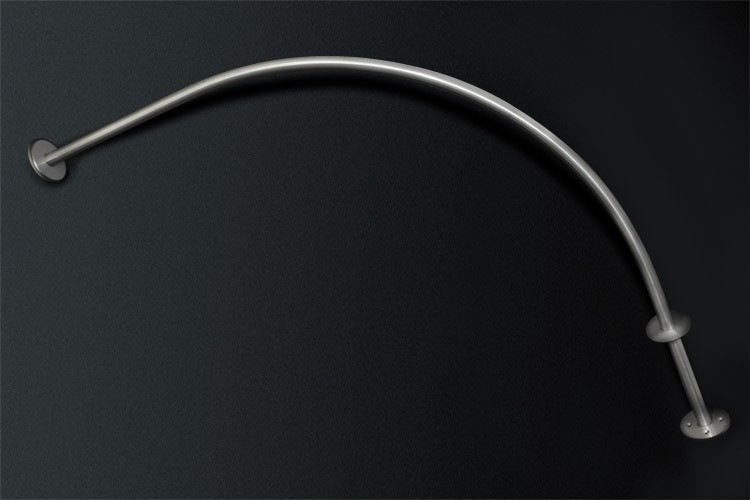 Symmetrical corner shower rods with a large radius of curvature for corner quarter of circle shower booths  ( TS85, TS95 models)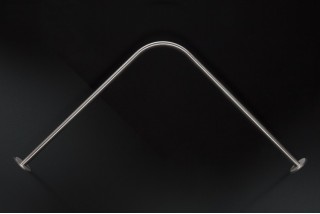 Symmetrical corner shower rods with a small radius of curvature for corner square shower booths placed against 2 perpendicular walls (TS80, TS90 models)
See in configuration in a corner walk-in shower
The shower rod is solidly set and does not require cross-pieces. Home designers and construction professionals will enjoy its simplicity and design.
SYMMETRICAL CORNER SHOWER RODS

Symmetrical corner shower rod 80 (square shower booth placed in a corner)
Symmetrical corner shower rod 85 (quarter of circle shower base)
Symmetrical corner shower rod 90 (square shower booth placed in a corner) 
Symmetrical corner shower rod 95 (quarter of circle shower base)
Symmetrical corner shower rod 120 (XXL corner shower booth and bathtub)
Symmetrical corner shower rod 140 (XXL corner shower booth and bathtub)
OTHER SHOWER RODS

Asymmetrical curtain rods for bath
Circular wall shower rods
Oval wall shower curtain rods
Oval ceiling shower rods GalboTwins
Straight shower rods
Custom-made shower rods